"FREEDOM VS. COMMUNISM" DEBATE / 6TH ANNUAL CONFERENCE OF THE AGAINST THE TIDE TV CLUBS
Imagine being identified by a facial recognition system, being detained, subjected to interrogation and charged with inciting unrest, charges for which you're being held in custody. But why? Well, you've criticized the party, the state. You've posted your opinions online. This is no fiction. This is communism in practice. It's the story of Simon Cheng, former employee of the UK Consulate in Hong Kong and one of the participants in our discussion.
Today, the clash between freedom and communism in Hong Kong is clear as day. Why is the fight for freedom of young Hongkongers, freedom that is threatened today by Chinese totalitarianism, so important for the world? What help do they need most? Why did Western countries turn out to be unprepared to face the attack by the CCP virus while Taiwan was able to deal with it? Will Donald Trump win the upcoming election?
Guests of the 6th annual conference of the Against the Tide TV clubs talked about these matters during the "Freedom vs Communism" debate.  Brigadier General Robert Spalding – Donald Trump's former advisor and senior fellow at Hudson Institute, Solomon Yue – Vice Chairman and CEO of Republicans Overseas, Julian Chan from Hong Kong – researcher for EU Affairs at the Umbrella Union, Sunny Cheung – student activist in Hong Kong, Simon Cheng – Former employee of the UK's Hong Kong Consulate and activist for democracy in Hong Kong, as well as pastor Paweł Chojecki – Editor-in-Chief of Against the Tide TV, were all part of the discussion. Editor Eunika Chojecka moderated the debate.
Why did the West fail to handle the coronavirus attack?
"We've allowed ourselves to be deceived by Chinese communists. We believed the World Health Organization," replied the panelists.
The situation in Hong Kong, and especially in Taiwan, was different. The Taiwanese sent their own experts to Wuhan, who properly assessed the situation and arranged protection measures for the people of Taiwan against the epidemic. Hong Kong, which over a decade ago experienced an epidemic from China, followed Taiwan's advice. That's why they succeeded in controlling the infections and minimizing the consequences.
Pastor Paweł Chojecki pointed to the spiritual source of Western ignorance and misplaced trust in the CCP by quoting the Bible: "Pride goes before destruction".
He listed three causes for the weakness against the CCP virus attack: "I think that the whole Western civilization believed that we have – as Fukuyama said – the end of history, that there will be no more wars, that liberal democracy will only keep on getting better.  That's why we were completely unprepared. (…) The second reason is communist agents and their propaganda on social media. They said that there was no pandemic, that there was no virus, that it wasn't dangerous. The third reason is our belief that Chinese communism has changed, that China is a normal capitalist state. That's a huge lie. The PRC is a dangerous communist Evil Empire that wants to take over the world.
What should the Free World do in order to help Hong Kong face the ongoing invasion by communist China?
Sunny Cheung: "In Hong Kong nowadays, we are facing unprecedented threats from the CCP. The CCP is trying to undermine the autonomy of Hong Kong. (…) We urge the Free World to help Hong Kong, not just because Hongkongers need help. It's also because if Hong Kong falls, Taiwan will be the next country to fall and then very soon, all of Asia and even the whole Indo-Pacific region will be in danger, while the Chinese tyrant will grow in strength."
Julian Chan: "The international front is especially important here. (…) After the coronavirus, and also given what's happening in Hong Kong, it's very important to distance ourselves away from what had initially seemed to be very palatable economic choices, whereas in the long run, it's going to be hugely eroding in terms of autonomy, politics and economy."
Solomon Yue: "If we are going to defend Hong Kong people's freedom and autonomy, we have to play hardball politics. One of the issues I'm supporting and our administration is thinking of and doing, is to cut Hong Kong banks access to the US dollar. That will cause a ripple effect. (…) If they want to go after Hong Kong people's freedom, we'll go after their market."
Gen. Robert Spalding: "It's not only access to dollars, it's trading rules. It's really all of the rules that designate Hong Kong as a special territory and really gives it advantages over the mainland in terms of doing business with the United States, and I think all of those privileges should be taken away, because it will eventually cause great damage to the Chinese Communist Party's economy. I think that's the only way to get them to respond. (…) We also need to have steps, so that we provide an opportunity for those that are living in Hong Kong that want to immigrate to [be able to] do so. (…) The social media influence and other influences by the Chinese Communist Party, with the coronavirus and with the recent riots and looting, have made the administration and Americans overall, wake up to the fact that the Communist Party is really something that has to be dealt with and Hong Kong is one of the fastest ways to begin to do that."
Is the EU properly responding to the protests in Hong Kong?
Pastor Paweł Chojecki: "I think that the European Union is dominated by Germany, which pursues its own interests. First of all, they want to get rid of US presence in Europe and become a world power. Germany, both secretly and openly, began dealing with Russia and now, with China. This takes me back to the Second World War, when Hitler made a pact with Stalin and jointly attacked Poland.  Prior to this event, Western governments sought to appease Hitler. For example, they handed him Czechoslovakia. That was a very big mistake. Mr. Yue clearly stated that Xi Jinping is "Xitler", which I believe is a very accurate appellation. We should take a tough stance and I'm of the opinion that the only ones capable of doing so are the United Stated, since the European Union will be very open to dialogue with the Chinese communists.
 Julian Chan: "I agree with Pastor Chojecki. I think [the Union's response] is very weak, because the EU is very heavily guided by business interests, notably from France and Germany. Therefore, I think that it's high time for the EU to use the strongest tool it has on hand, that is, to actually end or even stop the current trade deal negotiations [with the CCP] (…) and they should consider sanctions. The EU should also consider making it easier for Hong Kong people to come to Europe."
Will Hong Kong be free someday?
Gen. Robert Spalding: "I think it's very important that democracies come together and work collectively to isolate the Chinese Communist Party regime (…) and prevent the transfer of talent and innovation and technology and capital. If we do this, over time, the true nature of the regime will result in it collapsing upon itself. Totalitarianism can't survive without a lifeline to the Free World and we've allowed it far too much opportunity to gain the things that it needs to grow and strengthen itself and I think it's time to stop."
How is it that Hongkongers, especially young people, are so anti-communist and aware? Where do they draw their strength and reason from?
Sunny Cheung: "In Hong Kong, we are struggling with a communist regime. The Communist Party crept in and in an obvious way, is trying to undermine the liberal system established by the Free World after the Second World War. After Xi Jinping came to power in 2012, China has become another totalitarian regime. Since Xi Jinping centralized his power, China is becoming more and more assertive and ruthless. (…)  We're ready to fight against this authoritarian regime. What we ask for is the help from the international community."
Julian Chan: "What's most interesting to note is that the generation of democracy fighters in Hong Kong are not necessarily the ones who have seen for example, what happened in the Cultural Revolution or even the Tiananmen massacre of 1989. These are teenagers that are willing to sacrifice their freedom to fight against the Chinese Communist Party. The reason for this is quite clear among these young people –  the CCP breaks its promises."
Solomon Yue: "I would add one more thing that I call "the Hong Kong spirit". Those kids are amazing. They will never give up! As our Founding Father Patrick Henry said: 'Give me liberty or give me death!'"
Simon Cheng told us about the methods used by Chinese communists:
"I was stopped at the border. I was recognized by the facial recognition system. Later, they turned me back to Shenzhen. The usual tactics they would use would, for example, be to put you in a cage and put you on a tiger chair and ask you what crimes you've committed. They won't give you their identity. They won't show you their badges. Afterwards, they ask a series of political questions like 'What do you think about Hong Kong?', 'What do you think about China?'. And also, they ask you why you want to achieve democracy and why you oppose the Communist Party and the authorities. This group of people, the secret police, is part of the state security apparatus. It's inconvenient for them to make political charges, so they come up with [criminal] charges."
Can the Free World win Russia over in the fight against communist China? What are Russia's and Putin's true colors?
Pastor Paweł Chojecki: "Russia is an imperialist state and still wants to play a leading role in the world. It won't be an ally of Western governments for a long time, because that would be contrary to their goals. Another matter relates to the features of the Russian civilization. Russia was almost always possessive. Unfortunately, even today, the majority of Russia's society supports Putin, who is a continuator of tsars and Bolshevik tyrants. The Russian society supported him when he attacked Ukraine. (…) The Russian Orthodox Church is placed under Putin's power and is subjected to the communist party, which he explicitly supports. As a result, freedom-loving people, democrats, republicans represent a minority in Russia and are persecuted there."
General Robert Spalding and Solomon Yue stated that Donald Trump's move to invite Russia to the G7 is part of a deliberate effort intended to weaken the ties between authoritarian states. They believe it's part of a broader strategy to weaken the cooperation between regimes according to the "divide and conquer" strategy.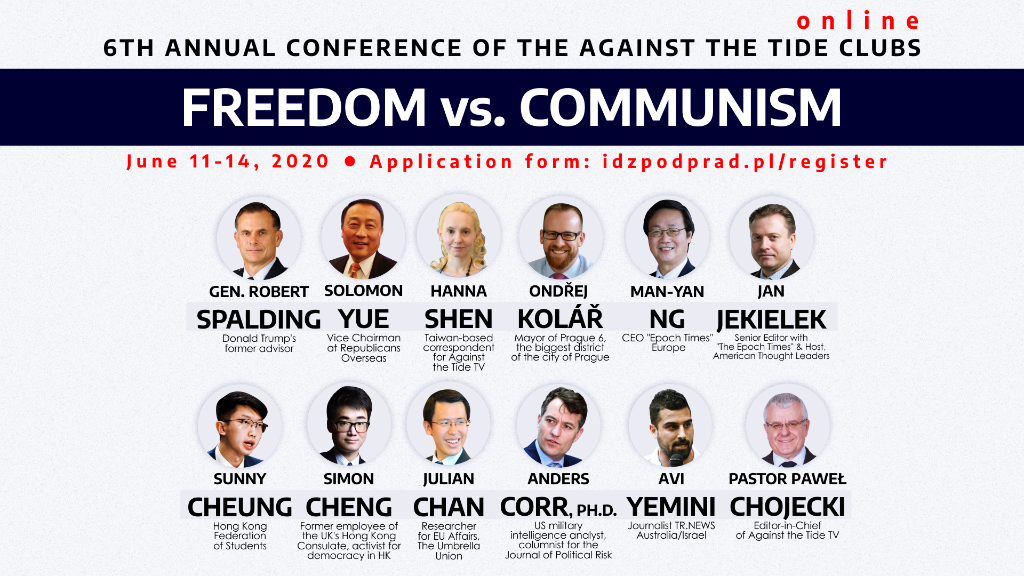 Questions from the audience
What reaction from the Free World is Hong Kong expecting?
Sunny Cheung: "We urge the international community to stand with Hong Kong with concrete actions. (…) The Free World countries should immediately cease any economic ties with Hong Kong and also with China. (…) Nobody should think that it's impossible. I don't think appeasement policy can really work and pacify the CCP."
Julian Chan stated that the issue of the national security law imposed by Beijing could be raised in the Council of the European Union. Poland's voice would be very important. At the last meeting, out of the 27 member states, only Sweden proposed to impose sanctions.
"It's extremely crucial to distance ourselves from further cooperation with China. (…) I hope that the Polish government really rethinks its strategy about China's presence and their engagement through the Belt and Road initiative and also, that the Polish Parliament will put more pressure on the government to take these concrete actions to support Hong Kong against Beijing's influence."
When asked about the role of Christians in the Hong Kong protests, Simon Cheng replied: "Christians are actively engaging in protests. Over the past years, many churches have opened up to protesters who sought refuge there. (…) About half a year ago, you could hear Christians signing religious songs to comfort protesters. It was very encouraging."
Solomon Yue expressed an important thought: "For any kind of social change, there needs to be a bottom-up [initiative]. You have to mobilize the people. (…) When you move the people, and you shift their opinion, politicians will follow, because they want to be re-elected. (…) Based on that, the first thing to do is to move the public opinion. After that, this will mobilize the elected leaders. I think that should apply to many democratic countries."
Gen. Robert Spalding noted: "Those countries that align themselves with the United States will find that the US is going to be more willing to have military ties, economic ties with those countries. And those countries that want to align themselves with the Chinese Communist Party will be cut off. (…) You have to make a choice. You cannot have economic relations with China and a security relationship with the United States. If you value that security relationship, then you must cut those ties with China. And if you're not willing to do that, you will not be able to be a partner of the United States."
When asked about this year's US Presidential election, both Solomon Yue and General Robert Spalding replied that they're expecting Trump to win, perhaps with an even better outcome than in 2016.
Simon Cheng expressed his hope that the United States would take the lead in defending democracy and democratic systems around the world and also, that the US would engage more in international activities, leaving no room for authoritarian states.
Sunny Cheung thanked President Trump. He expressed his gratitude that although there are many lobbying groups in Washington that are closely linked to China, who argue that adopting the Hong Kong Human Rights and Democracy Act would harm the US-China relation, President Trump still chose to sign the bill.
At the end of the discussion, Pastor Paweł Chojecki appealed to President Trump to continue emphasizing the spiritual dimension of the conflict surrounding communism. "President Trump is famous for openly speaking about God and the Bible. I think that was lacking in American politics under liberal presidents. (…)
What is the most valuable thing US exports? Biblical freedom! "Where the Spirit of the Lord is, there is FREEDOM" II Cor 3:17 Thank you President @realDonaldTrump for your courage!
Pic @samuel_greta @AgainstTideTV🇵🇱
"Gdzie Duch Pański, tam WOLNOŚĆ!" II Kor 3:17#ChristiansForUSA pic.twitter.com/bQ5vxnI7vJ

— Idź Pod Prąd (@idzpodpradpl) June 19, 2020
I would also like to appeal to all Christians to stand with President Trump. I was very sorry when President Trump stood in front of St. John's Episcopal Church on Lafayette square in Washington holding a Bible and was criticized by many Christians for doing so, even though he pointed to the foundation of our civilization. That's why I've launched the #ChristiansForUSA campaign on social media consisting in taking a similar photo of yourself with the Bible."
#HappyBirthdayMrPresident Support @realDonaldTrump who fights in the first line of defense of our civilization. A mighty river wouldn't exist if it wasn't for millions of drops. JOIN #ChristiansForUSA by @pastorChojecki🇺🇸🇵🇱 @VP @SecPompeo @EricTrump @DonaldJTrumpJr @TeamTrump pic.twitter.com/N5Elu8xWok

— Idź Pod Prąd (@idzpodpradpl) June 14, 2020
Cooperation: Hanna Jazgarska, Elżbieta Ceglarska, Mateusz Wojnar, Cezary Kłosowicz, Wiesława Gazda, Olga Gazda, Małgorzata Gazda