On Sunday, December 8, unidentified vandals carried out an attack on the car of pastor Radosław Kopeć from the New Covenant Church of Lublin. The pastor's car was parked in front of the church building. After the church gathering, about 4 PM, pastor Kopeć informed the police about the attack on his car. The act of vandalism was motivated by religious reasons. The hood of the car carried a phrase, "F**k cults," engraved with a sharp tool and an offensive image of a penis drawn. Moreover, the vandals scratched a whole side of the car. The police refused to arrive at the scene and failed to collect evidence. Instead, they requested that we come to a police station.
This was not the first attack on the New Covenant Church in Lublin. Several times in the past, members of the church and journalists of the Against the Tide TV (belonging to the New Covenant Church) had their cars vandalized: slashed tires, unscrewed wheels, and broken windows. The entrance of the church building has been vandalized and covered with feces, offensive tracts have been posted, etc. On the Internet, numerous threats have been aimed at pastors and members of the church, including: assault, rape, and death threats. The police and the prosecutor's office are slow to respond to such acts of religious hatred, and most often, they simply withhold action. Most cases still remain unsolved and perpetrators not punished.
The latest attack took place just a few weeks after the mainstream media started a hatred and smear campaign against the New Covenant Church of Lublin. A public Polish Television (TVP Info) played a particular role in this by calling the New Covenant Church of Lublin a "mysterious cult," and quoting lie-ridden statements by senator Jacek Bury (formerly "Nowoczesna" – "Modern", currently "Koalicja Obywatelska" – "Citizens' Coalition" party).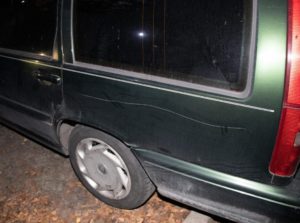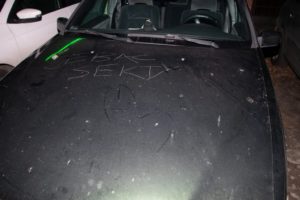 We are calling on honest journalists to get involved in the matter and break the spiral of hatred against Polish Biblical Christians.