A friend and advisor of President Donald Trump in an exclusive interview for the Go Against the Tide TV (Idź Pod Prąd TV)! On the Middle East summit in Warsaw, Israel and Palestine – Jason Greenblatt, a co-author of Trump's Middle East peace plan, speaks with pastor Paweł Chojecki and editor Eunika Chojecka.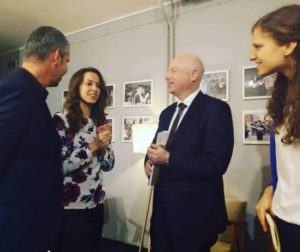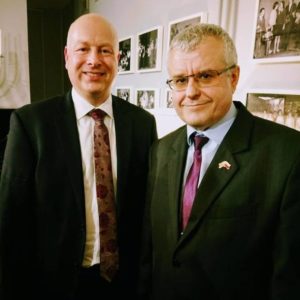 Jason Greenblatt with pastor Paweł Chojecki, Eunika Chojecka, and the Go Against the Tide crew
You are one of the few people in the world who have seen President Donald Trump's Peace Plan for the Middle East and especially for Israel and Palestine. This plan is set to be revealed after the Israeli elections on the 9th of April. Why are you waiting till then?
Not only am I one of the few to have seen the plan, I drafted it, along with Jared Kushner and our Ambassador to Israel, David Friedman. In fact, while it is essentially done, I continue to tweak it as I am always thinking about how to improve it based off of ideas we get from various contacts, including Israelis, Palestinians and others.
As to your question on timing, while we took into account a variety of factors, nobody thinks releasing the plan before the elections take place is a good idea. We want to give our plan the best chance to succeed. Waiting until after the Israeli elections is part of that.
How does this plan differ from other plans and initiatives the US have tried in the past, whether through its own or joint initiatives – Camp David, Oslo etc.? If those failed, why should this one succeed?
To be sure, past efforts and plans have informed our efforts. That said, none of what came prior has ever worked and it is time we all recognize this. Past initiatives did not bring peace. All the talking points used in the past have never, and will never bring peace. We have taken a different approach – a more honest, realistic and practical approach. We have made a concerted effort to speak truth, even if it makes people uncomfortable at times. I also think you will see in our plan one that is fair, realistic, and implementable with enough detail where people can actually imagine how it might succeed. It will not just be just aspirational principles or slogans. We have developed it to a degree that people will clearly understand the many benefits and opportunities that can be achieved by this vision, as well as the suggested compromises. We hope that people keep an open mind and judge it on its merits. It will be up to the parties to decide if and how to move forward.
It was publicly stated by Jared Kushner during the Warsaw Summit that the plan for peace in the Middle East would require both sides to agree to compromises and commit sacrifices. Many people in Israel are of the opinion that sacrifices, compromises and a weak position (for example Oslo Accord, Gaza settlements pullback etc.), will harm Israel and send the wrong message to the Palestinians. Do you agree with these views?
Firstly, President Trump is not going to do anything that jeopardizes Israel's security. We take Israel's security situation very seriously. What we will propose is hopefully something that both sides can gain a lot more than they give and where both sides will have to make compromise, but hopefully the benefits far outweigh the compromises.
How do you want to overturn the hatred Palestinians have towards Israelis? That hatred is often motivated by Islam.
The hatred that some Palestinians have toward Israelis has not gotten them anything but misery and little opportunity. Palestinians deserve better. Our hope is that the Palestinian people will take a good, hard look at our plan when it is released and see the benefits of living in peace with Israel. A brighter future that unlocks the full potential of Palestinians is possible with our plan. I hope that when the time comes, they seize the opportunity.
The Two-State solution of Israel and Palestine (the later not recognized as a sovereign country by the USA and Israel) is not a popular concept neither among Palestinians nor Israelis, as was demonstrated in a joint survey by the Tami Steinmetz Center for Peace Research (Tel Aviv University) and the Palestinian Centre for Policy and Research in Ramallah (sponsored by UN and EU). According to those surveys 54% of Israelis and 57% of Palestinians believe the Two-State solution is not possible. Also, we have asked Tomas Sandell, Founding Director of The European Coalition for Israel, about his thoughts concerning the Peace Plan. He stated that he is a supporter of the current Trump administration. Mr. Sandell said that he doesn't know the details of the plan, but if it includes a division of Jerusalem (into an Israeli and Palestinian part), that would make it "unacceptable". He also added that "it would be illogical and go against the values and principles of the whole international community. It would be against the legal foundations and legal commitments made to the State of Israel going back to the San Remo agreement in 1920", stating that "we've past the time in history when we would divided cities, we divided Berlin, Belfast etc." What are your thoughts on this?
The "two-state solution" is a failed slogan used in the past that means different things to different people. That slogan has not achieved peace. Hence, we have decided to move away from that slogan and instead focus on giving people an actual detailed vision of what peace could look like.
I obviously cannot get into what's in the plan. Up to this point, we have had no leaks, which I think is very constructive. In past negotiations, which we have studied, often the details would get out prematurely and that would cause politicians to have to run away from the plan. What we have tried to do is figure out what is realistic and what is a fair solution to the issues in 2019 that can enable people to live better lives. We hope that people keep an open mind when we release the plan and judge it on its merits.
What are your thoughts on the recent Middle-East conference in Warsaw, jointly organized by USA and Poland?
Warsaw was a historic conference to build consensus around promoting security across the region, and addressing common threats such as Iran. The ministerial brought together leaders from Israel and the Arab world to engage on common challenges facing the region. Dialogue and the open exchange of ideas is exactly what the region needs. More open engagement will be critical to achieving progress on Israeli-Palestinian peace.
We have good friends and partners across the Arab world. These partnerships will be important as we seek to give our peace plan the best possible chance to succeed. The leaders in the region respect what President Trump is trying to achieve. Warsaw was an important step toward that goal.
An analysis of the interview and the situation in the Middle East on the Go Against the Tide Live program, March 14, 2019:
Jason Greenblatt is an advisor and friend of the US President Donald Trump; since 2017, an Assistant to the 45th President of the USA and a Special Representative for International Negotiations. Co-author of Donald Trump's Middle East peace plan. He is Trump's co-worker since 1997. He was the executive vice president and chief legal officer at The Trump Organization, as well as Donald Trump's advisor on Israel.
Contributors: Ivan Belostenko, Paweł Machała, Rafał Toczyłowski