Join us on a journey through the highlights of 2022 in Against the Tide TV and the Megachurch project
War
This year will definitely be remembered as the time when Russia attacked Ukraine.
On February 24 at 4:45 a.m. local time, Russian troops from Russia, Belarus, and occupied Crimea and Donbas entered Ukraine.
The editor-in-chief of Against the Tide TV commented on the event: It should be made clear that Putin was not punished for [what he did in] 2014, and that is why he did what he did today. If [there had been] a reaction of the West to the annexation of Crimea and the rise of Putin's puppet states, which have now asked for intervention, we would not have a war at the borders of Poland, the EU, and NATO today. This is breeding a Russian Hitler and we're seeing the result of that.
In the first days of the war, in late February and early March, Christians from the US, Poland, and Ukraine jointly organized the evacuation of 62 orphans from Mariupol. The action was initiated by American pastor Matt Shea together with his wife Viktoria, who is from Ukraine. On the Polish side, it was coordinated by Pastor Pawel Chojecki and Pastor Radoslaw Kopeć of the New Covenant Church in Lublin, as well as the entire editorial staff of Against the Tide TV. The mayor of Lublin, Krzysztof Żuk, and people from the Lublin Assistance Center for Ukraine, who helped organize accommodations at the House of Creative Work of the Association of Polish Journalists in Kazimierz Dolny, reacted promptly. The director of the center, Dariusz Poplawski, and his Staff, also showed big hearts and help.
On the initiative of the New Covenant Church in Lublin, evangelical Christians in Poland sent an open letter to President Volodymyr Zelensky, in which they expressed their support for his actions taken in defense of his homeland and assured that in their prayers they ask God for the complete victory of Ukraine over the Evil Empire – Putin's Russia.
[Petition UA] [Petition EN] [Petition DE] [Petition RU]
Responding to the spiritual upheaval among Poles and Ukrainians, a few days after the outbreak of war, we issued an evangelistic leaflet and prepared an animation called "So it is War then!" which answers the questions: Why are there wars in the world? Why do people hurt each other? Why does God allow it?
In May, we issued an additional evangelization leaflet – "Putin's Pope." It became the basis for an animated clip with the same title.
We also developed a weekly Bible reading plan entitled "The Bible in Wartime" to help Poles come to terms with war just across our border.
A Ukrainian website has also been set up, where we post our materials in Ukrainian.
We have also started a course of free Polish language lessons for pastors and Christian leaders from Ukraine at introductory, basic and intermediate levels. You can also find some of the lessons on our channel.
In addition, we have prepared #PrayForUkraine t-shirts, bags and pinners with a logo designed by Olga Kurysh, a young Ukrainian.
We are also raising money to support both refugees and Ukraine's freedom fighters. To this day, we are still actively helping to organize the necessary aid for those fighting on the front and transporting needed items. We have also helped a number of Christians in the United States who have transported aid from the US to Ukraine.
Against the Tide TV has been actively involved in commenting on events across our eastern border and obtaining first-hand news.
Our guest was Oleksandr Turchinov, former Acting President of Ukraine, First Deputy Prime Minister of Ukraine from 2007 to 2010 and former Chairman of the Verkhovna Rada of Ukraine. Oleksandr Turchynov is also a preacher at a Protestant Baptist Church and a soldier in the Territorial Defense. In an interview, he said that it is very important that people don't simply go to their deaths, but that they understand that when they give their lives, they express the highest level of love. This is what the Bible says, he added. He also said that many strong believers among Ukrainians are not afraid of death, because they know they have eternal life. A true believer is more courageous and also more responsible. Turchinov also emphasized that many people turn to God under circumstances and he has seen soldiers turn to God before going into battle – when they take risks when they face the risk of death.
[Film] [Article]
Kira Rudyk, a parliamentarian of the Verkhovna Rada of Ukraine, has also been our guest several times. During one of our talks, she told us about her visit to the site of Russian crimes in Ukraine and appealed to all world leaders: I call on all world leaders. Now, while everyone is procrastinating and hesitating to give us weapons, the same nightmares are happening in other cities occupied by the Russian army, only we can't see it yet. That's why I call on everyone who hears – if you don't help us stop it, you are responsible too.
We also interviewed Dmytro Matiuchin, director of the Zaporizhzhia City Assistance Center and head of the Social Pastoral Department of the Baptist Union of Ukraine. He has been helping refugees from eastern Ukraine since 2014, and currently resides in Zaporizhzhya, where he coordinates charitable assistance.
In April, our guest was Victor Olivares, a journalist from Mexico's second-largest television station Azteca Noticias, who came to report on the current situation of Mariupol orphans rescued thanks to the cooperation of Christians from the US, Ukraine and Poland. Editor Olivares made an appearance on our television. He spoke about his idea of awarding Poland the Nobel Peace Prize for helping refugees from Ukraine. He also expressed great gratitude to all Poles who are so actively involved in helping Ukrainians flee war.
On August 24, we celebrated Ukraine's Independence Day. We dedicated a special edition of the Against the Tide LIVE program, and also participated in the "Heart for Ukraine" concert organized by Ukrainian churches, the Future of Ukraine's Children Foundation and the Baptist Church in Poland. The Ukrainians especially recognized five people, local leaders personally involved in helping our neighbors. Among them was the head of Against the Tide TV, Pastor Pawel Chojecki.
---
Everything that we have achieved so far has been possible thanks to God's blessing, thanks to the generosity and support of our viewers, and thanks to the hard work of a talented and well-coordinated team.
We are not paid by any means by the government, political parties, corporations, or any other groups and therefore, we can work completely independently and achieve such success in reaching Poles with the truth.
Support Against the Tide TV
---
Cooperation with other churches and Christian circles:
In 2022, we established intensive cooperation with churches and evangelical organizations.
In January, we conducted a series of programs on the topic of Christian business, during which we hosted Zdzislaw Miara – one of the founders of CROWN Financial Education, whose mission is to guide people to learn and apply God's principles in managing their finances, talents, and careers.
Also in January, we visited Cieszyn Silesia, and Against the Tide TV prepared reports on a visit to Christians from the Lutheran Church in Wisla Malinka and the Lutheran church in Dzięgielów.
In March, Pastor Ireneusz Dawidowicz of the Baptist Church in Bialystok delivered a series of lectures entitled "The Bible and Psychology".
We had the opportunity to visit Pastor Dawidowicz in Bialystok, where he co-leads the "Toward Good Hope" association. On our channel, you will find a report on how Christians help people who are homeless and struggling with addictions.
In April, we organized a workshop on the topic of evangelism, led by missionaries of the Mt28 Christian Movement.
We also established cooperation with the Chelm Baptist Church concerning helping Ukraine. Since the beginning of the war, Chelm Baptists have helped more than four thousand refugees from Ukraine.
In early May, we held a conference of pastors and Christian leaders entitled "Evangelization of Poles and Ukrainians to meet dynamic cultural and international changes." We discussed what should be the response of evangelical Christian circles to the changes taking place and how to use the openness and stirring of hearts resulting from the war in Ukraine in evangelism.
In Lublin, we also hosted pastors and Christian leaders from Poland and Ukraine, who together want to seek new opportunities to reach Poles and Ukrainians with the gospel. A special guest at the conference was Joe Losiak, co-founder of the Oasis movement and associate of Fr. Franciszek Blachnicki.
The fruit of the conference was a joint letter in which the pastors supported the initiative of President Zelensky and other politicians to strengthen relations between Poland, Ukraine and other countries in our region. The letter was signed by Pastors Pawel Chojecki, Radoslaw Kopeć, Pawel Machala and Michal Falek of the New Covenant Church in Lublin, Pastor Henryk Skrzypkowski of the Baptist Church in Chelm, Pastor Ireneusz Dawidowicz of the "Salvation Road" church of the Baptist Church in Poland, Pastor Andrey Hlopkov of the "Grace of Christ" Church of God in Krakow, Pastor Oleksandr Moroz of the Ukrainian Baptist Church in Warsaw, and Joe Losiak.
[Petition] [Article]
In June, a convention of Christians was held, whose special guests were the rector of the largest and oldest Bible seminary in Ukraine, Pastor of the Baptist Church in Kyiv Dr. Igor Yaremchuk and his wife Lena.
During this convention, Pastor Dr. Igor Yaremchuk and Pastor Pavel Chojecki decided to establish the Polish-Ukrainian Bible Institute in Lublin.
Pastor Yaremchuk said, We have 830 students and 70 staff members, who are now spread all over the world. Wherever they are scattered, we want to open branches of the seminary in Irpin. And our dream is for such a branch to be established in Lublin. Praise God that we decided with Pastor Paul Chojecki to start this process. On the one hand, we will teach, on the other hand, we will build a community. We know that from this a closer bond between the Polish and Ukrainian churches can result. We want to open such branches also in Germany, the Czech Republic and Italy. But since Poland was the first to welcome us, we are starting here!
During the convention, we organized a Polish-Ukrainian Praise Concert in Lublin's Lithuanian Square. The music band of the Ukrainian Church of God "Grace of Christ" in Cracow and the music band "Against the Tide" of the New Covenant Church in Lublin gave glory to God by singing. Speeches were delivered by Pastor Dr. Igor Yaremchuk, Pastor Andrey Hlopkov and Pastor Pavel Chojecki.
During the convention, a series of creationist lectures on what we can learn about human history from genetic research on the Y chromosome were delivered by Dr. Nathaniel Jeanson of Harvard University, author of the books Replacing Darwin and Traced.
Polish-Ukrainian Bible Institute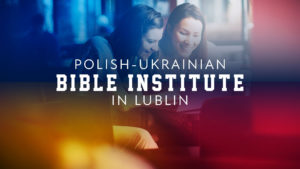 August 20 saw the inauguration of the Polish-Ukrainian Bible Institute in Lublin – a project of Christian educational space, in which we want to educate future Christian leaders together. The Institute also aims to exchange the experiences of Christians from Poland and Ukraine and to create a vision of ministry leading to the evangelization of our nations, as well as the nations of the Three Seas area.
The inauguration ceremony was led by Pastor Pavel Chojecki of the New Covenant Church in Lublin and Roman Loboda, a Baptist Christian from Zaporizhzhia, who, through Against the Tide TV, has helped to bring together Ukrainian Christians and Christians from the New Covenant Church in Lublin.
A total of 5 sessions have already taken place and more are planned once a month from February to June 2023.
[Article]
Those interested in the activities of the Polish-Ukrainian Bible Institute in Lublin are invited to contact us: [email protected] and to visit our website lib.edu.pl, where we post current information about the Institute's activities.
Against the Tide productions
2022 was also full of productions and publications
January saw the premiere of the documentary film "Where is the file of John Paul II?" produced by Against the Tide TV and directed by Szymon Żuk. The film presents little-known facts from the life of Karol Wojtyla and tries to answer the questions of who Pope John Paul II really was, whether he really contributed to the fall of communism and why we do not know the full contents of his file kept by the Security Service.
In March, a cover of the MercyMe song "I can only imagine " performed by Hanna Jazgarska appeared on our channel.
April saw the premiere of another documentary film produced by Against the Tide TV "Rescued from Mariupol," directed by Szymon Żuk. The film reports on the heroic evacuation of more than sixty orphans from war-stricken Ukraine to Poland. The film has been made available in Polish, English and Ukrainian.
A tour by the Christian band Celebrant Singers took place in July under the media auspices of Against the Tide TV. The group, which performed in Poland and the Czech Republic in July, was founded in 1977 by Jon Stemkoski, an adopted child of Polish emigrants. The Celebrant Singers have already performed in more than a hundred countries, playing for more than 8 million people.
Our TV covered the tour extensively, and also prepared and published the live concert of Celebrant Singers and Dajuks & Missio Musica, which took place at the Lublin Philharmonic.
[Watch]
In October, we reported on the scientific conference "Father Francis Blachnicki. Scientist – Visionary – Practitioner" organized at the Catholic University of Lublin. During the event, we interviewed people who got to know Father Blachnicki.
In addition, two novelties of the POD PRĄD publishing house were released in October:
"A Flash in the Pan. From the History of the Polish Reformation" by Piotr Setkowicz
"Jesus Revolution. Discipleship without reservations" by Joe Losiak
Both books are available in our online store.
On November 11, we returned with Against the Tide TV News, which airs Monday through Friday at 5 pm.
In November, we also created an anti-communist rap in support of the protests going on in Communist China.
[RAP]
In December, we launched a new project, "Priest at the Crossroads," which also has a media dimension. Once a month we will broadcast a program dedicated to priests and nuns. On Friday, December 23, we aired the first episode titled "A Priest's Loneliness at Christmas."
And on December 24 (Christmas Eve), "Adventures of Romeczek" returned – this time as an animation full of Christmas magic. In this episode, Romeczek listened to the tale of Maurice Baton and the unruly Wound Orchestra.
Return to meetings and open events
The year 2022 also marked the return of live meetings and open events attended by guests from outside the community.
In June, together with editor Hanna Shen, we held a screening of the film "The Betrayal of Formosa," which tells the story of an FBI agent during Chiang Kai-shek's dictatorship in Taiwan in the 1980s.
In October, on the occasion of the 505th anniversary of the Reformation, we organized a screening of the film "Luther" at our headquarters.
To celebrate Reformation Day, on the last day of October, we organized the All Saints' Ball, which featured a recital of Christian songs. Above all, it was an opportunity to spend time together and celebrate in a joyful atmosphere.
In December, Against the Tide TV organized a screening of the film "The Hong Konger". It was the first-ever screening of this movie with Polish subtitles. The film tells the story of Jimmy Lai, a businessman and publisher of the Apple Daily newspaper, who became a symbol of Hong Kong's struggle for freedom.
Also in December, a Gospel for Christmas concert by Abraham Diomande took place at our headquarters. This concert will also be published soon on our YouTube channel.
THE PAST YEAR WAS ALSO FULL OF OTHER EVENTS: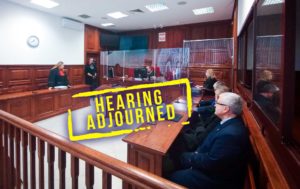 In May, the 8th Against the Tide TV viewers' convention "Poland and the World after the Catastrophe" was held, which was dedicated to the situation in Ukraine. Our guests talked about how to organize the world after the war with Putin and what the consequences of the war will be for the whole world. They also assessed the attitude of countries and their involvement in helping Ukraine, as well as communist China's policy towards Russia's aggression.
The centerpiece of the Convention was a debate, which was divided into four thematic panels: security, local government, health care and education. It featured speakers from various fields: politicians, experts, doctors, editors, local government officials and representatives of education.
The Convention was attended also by the former Minister of Agriculture, Chairman of the Council for Agriculture and Rural Affairs Jan Krzysztof Ardanowski, who advocated the idea of a Polish-Ukrainian alliance: Strategic cooperation is needed in various areas, including Ukrainian and Polish agriculture. If Ukraine perseveres, God willing, then, as President Zelenski also said in his message to the Polish National Assembly, if Poland, Ukraine and smaller countries in our part of Europe, that is Three Seas region, manage to unite, being at the same time a strong counterweight to the Germans, to their domination, hegemony in this part of Europe… Now is the chance for our region to break out into independence. Poland with Ukraine can be absolute leaders in this change of geopolitical situation.
In July, Christians from Poland, Europe and North America came together for the annual Megachurch camp. During the camp, the focus was on worshipping God through daily communal singing and prayer and on rebuilding bonds that were weakened during the COVID-19 pandemic.
Two weddings took place this year! Both were great celebrations in our project!
In July, Kasia and Piotr were married.
In October, the wedding of an editorial couple – Simon and Eunika – took place. This wedding was broadcast live and is available on our YouTube channel.
In October and November, two missionary groups left Poland! The first, led by Pastor Pawel Machala, headed to Great Britain and Ireland. The second, led by Pastor Radoslaw Kopeć, headed to the United States and Canada.
On November 22, after more than a year of waiting, an appeal hearing was held in the trial of Pastor Pawel Chojecki, editor-in-chief of Against the Tide TV and pastor of the New Covenant Church in Lublin. The Court of Appeals in Lublin adjourned the case until January 31, 2023.
This is how Pawel Chojecki commented on the case: This is what I prayed for, that this trial would help awaken Poles from the conviction that we live in a normal democratic state. No, it's not true, people are being oppressed here, hence more than 3 million people left, also because they couldn't stand this suffocating atmosphere of lack of freedom and tolerance! May this trial inspire many people with hope, that not everyone will be broken, that it is possible to fight, that the state is not omnipotent, that there is still hope for Poland!
After a time of COVID stagnation, we are back to full-scale work, and we look forward to even greater things in the New Year!
Thank you for being with us and for the fact that each month more than 1,000 people support the Against the Tide TV project!
Together we are GOING FURTHER!