"Polish pastor and troublemaker. Within a quarter of a century, he had built a church and a media company. (…) On June 10, he was sentenced to 200 hours of community service by the Polish court, which found him guilty of insulting the religious feelings of Catholics and the Polish President," this is what Herman Veenhof, a journalist for the Dutch newspaper Nederlands Dagblad, wrote in an extensive article about pastor Paweł Chojecki. Is this the beginning of an international scandal ridiculing the Polish criminal justice system?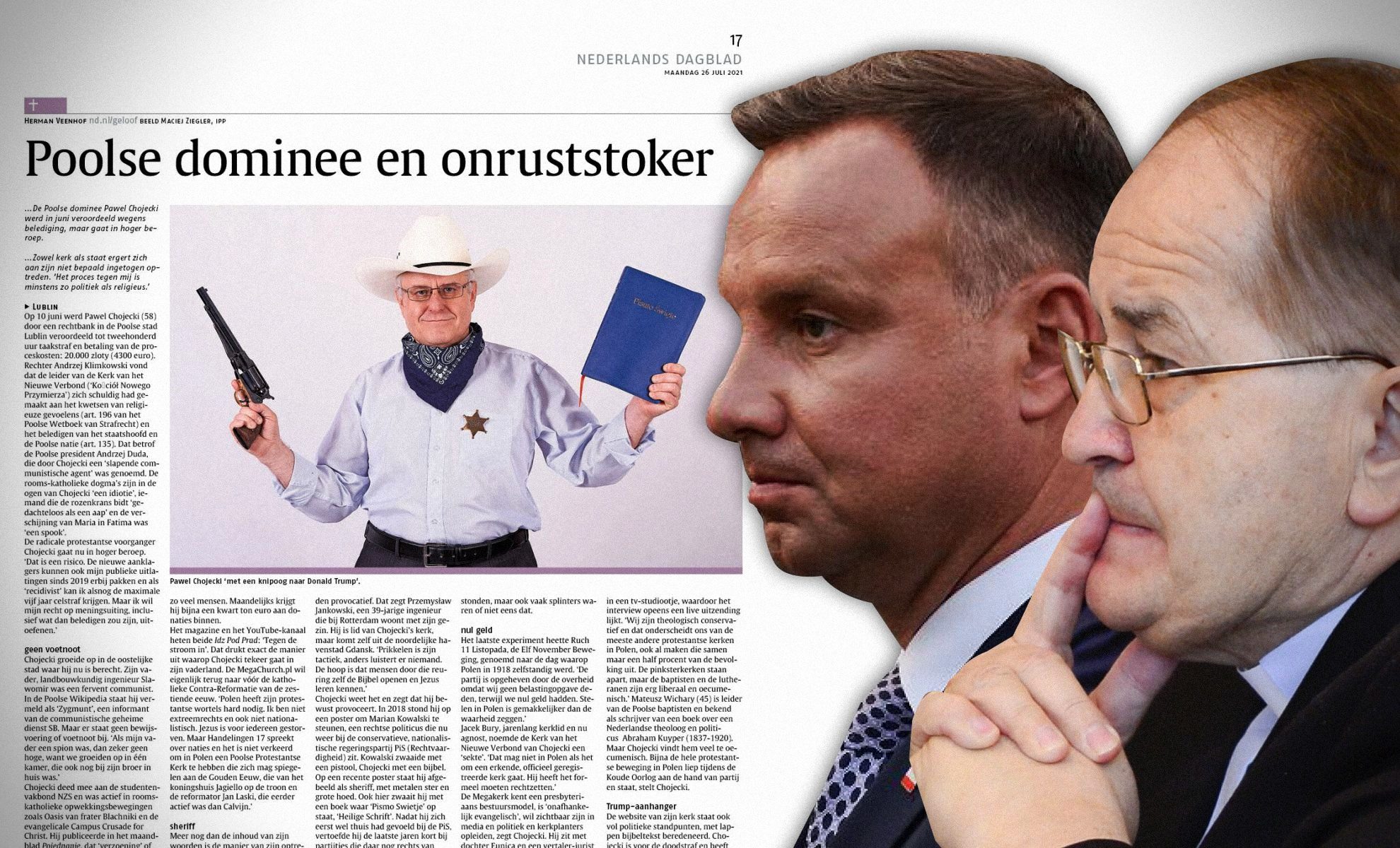 "A Polish pastor Paweł Chojecki sentenced in June, appeals against the sentence," says the beginning of the article, which appeared in a Dutch newspaper, both on paper and online.
"This applies to Polish President Andrzej Duda, who was called a sleeping agent by Chojecki. Chojecki called Roman Catholic dogmas idiocy, said that Catholics mindlessly pray with the rosary like a monkey, and the revelation in Fatima is a ghost," a journalist reports for a Christian newspaper in the Netherlands, which has a daily print run is almost 24,000 copies.
"Chojecki belonged to an Independent Students Association and was an active activist in the Light-Life Movement of Fr. Blachnicki," the article says. The author presents pastor Chojecki and his way of life.
Before publication, the journalist contacted Paweł Chojecki and spoke to him for a long time, asking about the details of his private life and public activities. The text contains extensive quotes from this conversation. The pastor described his conversion to Jesus and the moment he left the Roman Catholic Church: "I read the Bible and concluded that Jesus and the Catholic Church do not have much in common, so I left this church."
"Chojecki and his wife Marzena have a son Timothy – doctor of mathematics, daughter Eunika – journalist and Cornelia – psychologist. Within a quarter of a century, he had built a church and a media company," the article says.
"BIKE ACTION. Chojecki is not alone. In recent weeks, Pastor Paweł Machała has been cycling around Poland with a giant banner "I support Paweł Chojecki" [action #SupportPastorChojecki] as part of the #TourDeWolność [TourDeFreedom] campaign", Herman Veenhof reports.
AMAZING BIKE ACTION! #TOURdeWolność (tour de freedom) #SupportPastorChojecki! Pastor @PawelMachala set off on a bicycle in a gesture of support for pastor @PawelChojecki, whose mouth the court is trying to shut. More: https://t.co/iQ4phsq4ho pic.twitter.com/qRi1Y2UleO

— Against the Tide (Idź Pod Prąd) TV (@AgainstTideTV) June 28, 2021
"The newspaper and the TV channel are called "Against the Tide", which reflects how they work (…). The Megachurch project refers to the pre-Catholic Counter-Reformation, that is, the 16th century. – Poland needs a return to its Protestant roots. I am not a right-wing extremist or a nationalist. Jesus died for all of us, but Acts 17 speaks of nations. Therefore, it is not a bad thing that there are Polish Protestant churches in Poland, which will refer to the Golden Age, Jagiellonians and reformers such as Jan Łaski, who preceded Calvin," Pastor Chojecki explained to a Dutch journalist.
"Provoking is a pastor's tactic. If he didn't do it, no one would listen to him. We hope that as a result of this move, people will open the Bible themselves and get to know Jesus", the journalist quotes Przemysław Jankowski, an engineer living in the Netherlands, one of the members of the New Covenant Church in Lublin founded by Paweł Chojecki.
The editor quotes further statements by Pastor Chojecki: "We are theologically conservative and this separates us somewhat from most Protestant churches in Poland. They make up only half a percent of Polish society."
"Mateusz Wichary (45 years old) is the leader of Polish Baptists (…). Pastor Chojecki, however, thinks he is too ecumenical. – Almost all of the Protestant movement in Poland has been taken over during the Cold War by the Communists, [Pastor Chojecki] says."
The article ends with a quote from Pastor Chojecki: "Communism still exists. (…) That is why the trial against me is both political and religious. I supported Trump, I support a free Hong Kong, I recognize Taiwan and I want a Polish embassy in Jerusalem. This does not appeal to Chinese investors who have a lot to say in Poland."
---
Watch the video about the life of pastor Paweł Chojecki: