TOP NEWS
Appeal hearing in the trial of Pastor Pawel Chojecki
An appeal hearing was held on November 22 in the trial of Pastor Pawel Chojecki, editor-in-chief of Against the Tide TV and pastor of the New Covenant Church in Lublin.
The appellate court adjourned the case until January 31, as the subsidiary accuser has submitted further recordings to show that Pastor Chojecki continues his online activities that offend the religious feelings of Catholics.
This is how Pastor Chojecki commented on the case: "This is what I prayed for, that this trial would help awaken Poles from the conviction that we live in a normal democratic state. No, it's not true, people are oppressed here, more than 3 million people left this place because they could not stand this suffocating atmosphere of lack of freedom and tolerance! May this trial inspire many people with hope, that not everyone will be broken, that it is possible to fight, that the state is not omnipotent, that there is still hope for Poland!".
Many pastors and Christians from Poland and abroad joined the #SupportPastorChojecki campaign. They expressed their support and assured of prayers. Also, those who disagree with Pastor Chojecki's views expressed their opposition and indignation at the actions of the Polish state, which persecutes its citizens for their words.
To show Pastor Pavel Chojecki's case, we created a short video. It is available on our channel in Polish, English, Ukrainian and German.
An interview with Pastor Chojecki about the trial conducted by The New American magazine was also recently published, while the John Birch Society created an online campaign to support the pastor's case.
Paweł Chojecki was accused by a group of haters of insulting the religious feelings of Catholics, insulting Catholic objects of religious reverence, praising the initiation of a forward war against communist North Korea, and insulting the Polish Nation and the President of Poland. The court of first instance in 2021 sentenced him to eight months of restriction of liberty in the form of community service and reimbursement of nearly PLN 21,000 in legal fees.
In response to the verdict of the court of first instance, four appeals were filed: three in defense of Pastor Paweł Chojecki and one was filed by the prosecutor's office, which seeks a suspended prison sentence. According to it, only a prison sentence and a fine will allow for the due realization of preventive and educational goals against the pastor "and will take due account of the needs for shaping the legal consciousness of society."
---
Everything that we have achieved so far has been possible thanks to God's blessing, thanks to the generosity and support of our viewers, and thanks to the hard work of a talented and well-coordinated team.
We are not paid by any means by the government, political parties, corporations, or any other groups and therefore, we can work completely independently and achieve such success in reaching Poles with the truth.
Support Against the Tide TV
---
WHAT ELSE:
Fourth Convention of the Polish-Ukrainian Bible Institute in Lublin.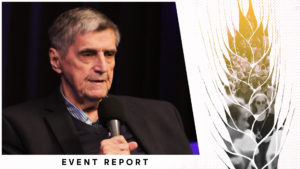 The fourth congress of the Polish-Ukrainian Bible Institute in Lublin was held this month. The lecture part on the topic: "Will our generation carry out the great missionary command of Jesus in Poland?" was led by Joe Losiak and Pastor Pawel Chojecki. Joe Losiak, in three lectures, presented his perspective on the evangelization of modern Poland, and Pastor Pawel Chojecki, in his speech, pointed out those characteristics of churches and pastors that contribute to the spiritual growth of the church – in accordance with the testament of Jesus.
The Independence Day rally featured a concert by Jerzy and Malgorzata Dajuk, who performed together with musicians from the Missio Musica association.
We also interviewed Mr. and Mrs. Dajuk about their impressions after the concert and how Jesus changed their lives.
The lectures from the fourth convention will soon be on the YouTube channel of the Polish-Ukrainian Bible Institute.
Those interested in the activities of the Polish-Ukrainian Bible Institute in Lublin are welcome to contact us: [email protected] and on the website lib.edu.pl, where we post current information about the Institute's activities.
On December 3, the fifth congress of the Polish-Ukrainian Bible Institute in Lublin will be held. The lectures will be given by Ireneusz Dawidowicz – pastor of the "Way of Salvation" church of the Baptist Church in Poland and a psychologist with a clinical specialty.
American Thanksgiving evening
On the fourth Thursday of November, Americans celebrate Thanksgiving Day, which commemorates the arrival of a group of pilgrims to America on the Mayflower ship.
We also celebrated this holiday, thanking God for another great year. This is the 9th time we have held an American evening. The schedule for this year's evening included a concert of American music, a tasting of American cuisine, a dance workshop, as well as games and activities together.
MP Tadeusz Cymanski justifies Jaroslaw Kaczynski's words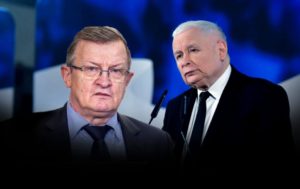 MP Tadeusz Cymanski, attorney Artur Nowak and pastor Ireneusz Dawidowicz commented on Jaroslaw Kaczynski's words about alcoholism among women. President Kaczynski proclaimed that women do not give birth to children because they drink, and announced a fight against this phenomenon. We asked our guests about whether it is within Kaczynski's competence to educate the nation, and whether he is the right person to moralize his countrymen.
MP Tadeusz Cymanski was the only one to justify the President's words, however, calling them "unfortunate."
Comments on Pope Francis' declaration that he is a communist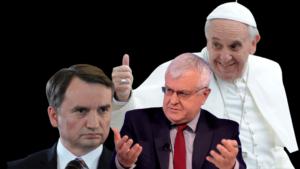 We also commented on the recent words of Pope Francis, who in an interview with "America" magazine declared that he is a communist and accused Jesus of communism. We talked about the connection between the pope's pro-Russian views and the Catholic Church leader's failure to take a clear position on the ongoing war in Ukraine.
---
WHAT'S NEW ON AGAINST THE TIDE TV?
We created an anti-communist rap in support of the protests in China. Up to dozens of people have been burned alive in Urumqi as a result of the Chinese government's anti-covid policies. Protesters want Xi Jinping's resignation. The protests have become known as the A4 Revolution – a blank sheet of A4 paper is a symbol of resistance to censorship and control by the Chinese Communist Party.
Christmas sales are underway at our online store.
---
WHAT WE ARE WORKING ON:
We are preparing for a Christmas concert in Lublin, which we especially want to target young audiences. We hope that the pre-Christmas period will also be a time of increased evangelization among students.
We are working on preparing another episode of the evening show for the youngest viewers.
Work is underway to expand our conference room stage.