SUCCESS of #SupportGreta! Thanks to the support of international media and people all over the world, the London-based employer of the Polish illustrator Greta Samuel, who wanted to fire her for an artwork about COVID-19, WITHDRAWN from the disciplinary proceedings against her! Disciplinary proceedings against a Polish artist have been suspended. Media from the USA, Taiwan, Hong Kong, and Great Britain reported the artist's persecution for her work. However, apart from our editorial staff, no Polish media have mentioned the subject.
In early May, we wrote about the Polish illustrator Greta Samuel, who started receiving death threats from the Chinese after she had published an illustration, referring to coronavirus and communist China, on a popular portal for artists called Behance.net and her private website. The illustrator and her mother were threatened with death. Her London-based employer – Culture Trip – has launched a disciplinary proceedings against her when she refused to remove the illustration from her private page.
In response to the threats of Chinese communists and Culture Trip activities – Against the Tide TV has launched a #SupportGreta campaign, which viewers and Internet users from around the world have joined.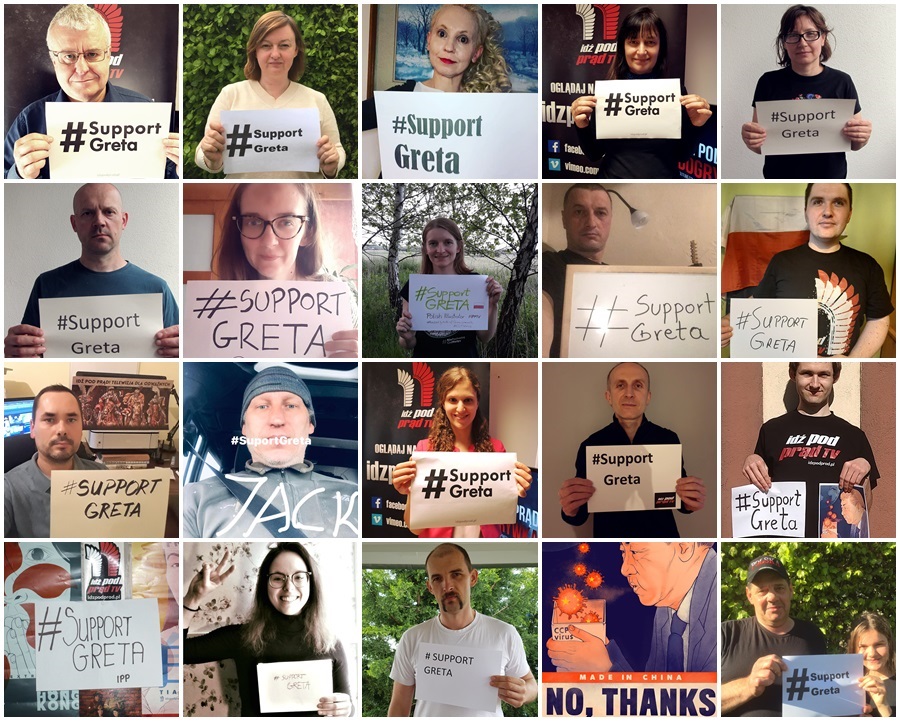 Thank you for supporting Greta Samuel !#supportgreta #gretasamuel pic.twitter.com/uozXOLhbXj

— Kenneth Cole 😷🇭🇰🇿🇦🇹🇼🇱🇧 (@Kenneth50029151) May 17, 2020
More support from Hong Kong!!🇭🇰🎗️
Thank you guys🤝💇‍♂️
Stay strong‼️
Hair Guys Salon#supportgreta #IPPTV #fightforfreedom #standwithhongkong#光復香港 #時代革命 pic.twitter.com/4BApZ4XtV8

— Greta Samuel (@samuel_greta) May 21, 2020
Media, politicians, and human rights activists from abroad covered persecuted illustrator's story. The artist thanked all of them on Against the Tide TV. "I didn't expect foreign media to become interested in this matter, also I didn't expect such important personas to stand up for me. I want to thank especially Solomon Yue, CEO of Republicans Overseas, and my two lawyers: Michael Polak and Randy Yaloz. I also got great support from Jan Jekielek and Joshua Philipp from the Epoch Times and Marcin H. Fernandez. I was also interviewed by Ed. Chapman Chen from Hong Kong Bilingual News. An article covering my story appeared in Daily Star UK. At the political level, former Donald Trump advisers – General Robert Spalding, Steve Bannon, and Steve Yates – expressed their support for me. Anders Corr, Ph. D., publisher of Journal of Political Risk, has also supported me. I also got huge and touching support from the people of Hong Kong", said Greta Samuel.
No Polish media – except Against the Tide TV – has spoken on the persecution of the Polish artist.
Artist faces sack over illustration showing China's president spreading coronavirus
https://t.co/vKSlUR3lIv

— Daily Star (@dailystar) May 21, 2020
🇨🇳#CCP death threats won't scare this brave Polish visual artist @samuel_greta. Bravo! She is fighting back. She understands free people must stand up 4 their free speech rights. Polish people liberated themselves from Nazi & Polish communist occupation. She says NO 2 #CCPVirus. https://t.co/1vnwJcxHxg

— Solomon Yue (@SolomonYue) May 21, 2020
This kind of censorship, especially on behalf of an authoritarian Communist regime, must stop. https://t.co/671CI40TKq

— Steve Yates (葉望輝) (@YatesDCIA) May 22, 2020
"Thank you very much for your support, especially to the viewers of the Against the Tide TV, whose reaction was immediate!"
.@AgainstTideTV graphically supported Polish illustrator @samuel_greta who is persecuted by Chinese communists for illustration on #Coronavirus #CCPVirus and her London-based employer @CultureTrip began disciplinary action against her. Artists, #SupportGreta! Pic: @olgagazda pic.twitter.com/WqEeJeNJhO

— Against the Tide (Idź Pod Prąd) TV (@AgainstTideTV) May 28, 2020
"I want to say 'thank you' to all the people who have sent me messages in which they wrote about my courage and that I am setting an example to others. I want to make it very clear that my attitude does not come from human calculation nor is it bravado. It comes from God. Thanks to the fact that I was born again, I have the courage to tell the truth, regardless of the consequences. By following Jesus' footsteps, your life becomes an instrument in His hands. And great things happen then! What may seem impossible, with God becomes reality! Where the Spirit of the Lord is, there is liberty – 2 Corinthians 3:17"
Greta Samuel expressed special thanks to editor Hanna Shen, Against the Tide TV's correspondent in Taiwan: "Thank you, Hania, for sharing your knowledge and experience. Also, thank you for the words of your support not only in our private conversations but also publicly on Against the Tide TV and all those for whom freedom of speech is the most important. I hope that this story will become a good example, to not to be afraid of asserting your rights and making "small, great acts of courage" against the hate and censorship of CCP".
— Hania Shen 沈漢娜🇵🇱🇹 (@haniashen) May 26, 2020
#supportgreta #ccpvirus #ChinaLiedPeopleDied #BoycottChina #ChineseVirus #saynotochina #sayyestotaiwan #FreeHongKong @samuel_greta @robert_spalding @SolomonYue @anderscorr @OzraeliAvi @demosisto @GordonGChang @realDonaldTrump @CaoChangqing @joshuawongcf @ChinaUncensored @news_ntd pic.twitter.com/FranC9UgAO

— Ivan Belostenko (@IvanBelostenko) May 16, 2020
Opinion💭by Randy Yaloz

First came a downpour of insults. Then death threats quickly followed.

Recent reports confirm that #CCP authorities are increasingly using online bullying, threats and harassment to silence opposition across the world. https://t.co/58I9s2SQJh

— Epoch Times Opinion (@EpochOpinion) May 26, 2020
Greta Samuel's employer, Culture Trip, ceased the disciplinary proceedings against the Polish illustrator, provided that she clearly stated on Behance.net and her private page, that the views expressed in her "controversial" artwork are her own and are not the views of her employer. Culture Trip then withdrew from their demands for Greta's illustration to be remove from these sites.
"I think we can announce the victory of freedom and truth!" – summed up Greta on Against the Tide TV, in her interview with Ed. Tymoteusz Chojecki.
---
Weronika Lewandowska, Eunika Chojecka, Hanna Jazgarska